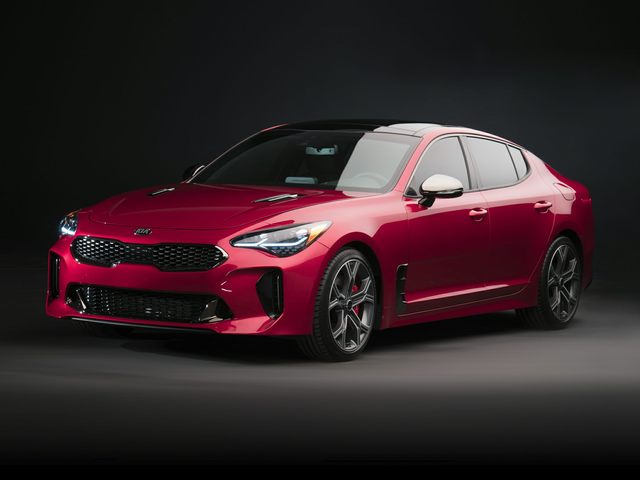 Enjoy the Power and Style of the New Kia Stinger in Selma
When you think of Kia you probably don't first think of high-powered sports cars, but that doesn't matter. The 2020 Kia Stinger will show you that it means business the second you put your foot down, and it will surround you in the comfort and convenience you need for more than just a quick back road blast as well. Visit Selma Kia to discover the latest Kia Stinger today, and be sure you take it for a test drive so you can get to know just how much fun this four-door sports car can be.
Performance Options
The 2020 Kia Stinger will be available to Fresno and Hanford drivers with a pair of unique engine options. The standard kit is a 2.0-liter turbocharged four-cylinder unit that pushes out 255 horsepower and 260 pound-feet of torque through an intelligent all-wheel drive system.
For Visalia and Clovis drivers seeking some extra gusto, the available 3.3-liter Twin Turbo V6 is available to give you 365 horsepower and 376 pound-feet of torque, and these models are available with either all-wheel drive or rear-wheel drive if you prefer the feeling of rear-driven acceleration.
All told the top-spec Kia Stinger can take you from zero to 60 mph in just 4.7 seconds and on the track it will top out at a hair-raising 167 mph.
Four-wheel Brembo® disc brakes sit at all four corners, giving you the high-performance stopping power you need to wrangle this 365-horsepower beast. Meanwhile, the electronically-controlled suspension includes high-performance dampers to keep all four wheels planted to the road even on rough surfaces, providing the confident control you need to really attack the corners.
Getting your engine power to the wheels is an eight-speed automatic transmission, but don't think of it as a traditional automatic. This paddle-shifted transmission gives you rapid gear shifts to keep you pushing forward, and even in full automatic mode you'll enjoy a responsive transmission that gives you power when you want it and efficiency when you're just cruising.
Torque vectoring technology in the all-wheel drive system helps with both cornering ability and control, by shifting power to the wheels that need it most. While cornering it sends more power to the outside wheels to help you perfectly carve the apex, and when things get a little out of hand it can shift power as needed to help you straighten things out.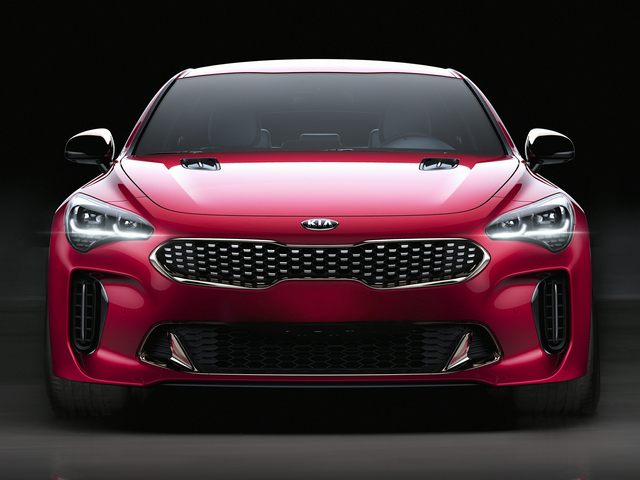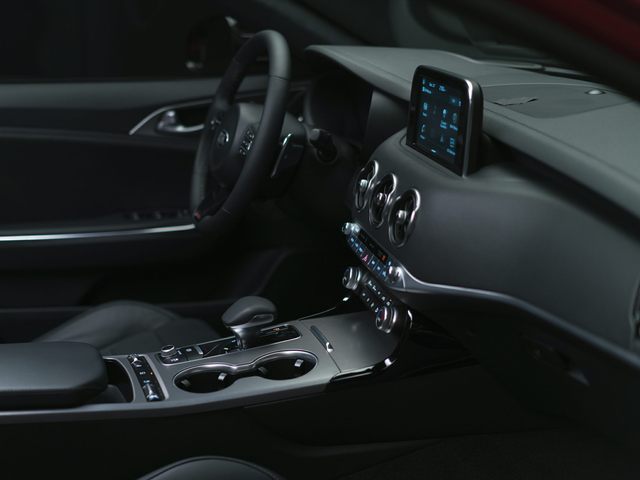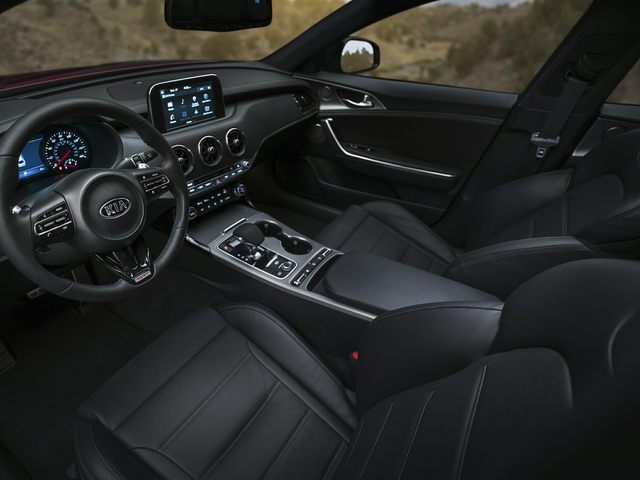 Enjoy the Ride
The 2020 Kia Stinger may be a performance sedan, but it still comes with all of the comfort you expect from a mid-size, four-door cruiser. The simple beauty of the interior includes a trio of round air vents in the center of the dash, just above a perfectly integrated set of radio and climate controls. Those are included in the silver trim line that cuts across the bottom of the dash, while the optional colored upholstery on the doors allows you to make your Stinger your own.
Even the standard seats in the Kia Stinger are trimmed in leather for a quality look and feel, and you can upgrade to premium Nappa leather when you really want to stand out from the crowd. All the while the contoured bucket seats are holding you comfortably in place, allowing you to sling your Stinger through the corners without feeling like you're going to fly through the side window.
Dual-zone automatic climate control, heated and ventilated seats, and a power panoramic moonroof are all available on the 2020 Kia Stinger, giving you a set of high-end luxury features that holds up against the stiffest luxury competition.
Safety Tech
Of course, your daily commute doesn't care that you're driving something with 365 horsepower and sport brakes - hazards are hazards just the same. As such, the 2020 Kia Stinger comes with blind spot monitoring, forward collision alert, automatic emergency braking, and adaptive cruise control to help keep you safe and aware of potential trouble around you.
Visit Our Dealership Today!
There has never been a better time to bring home a luxury sport sedan like the Kia Stinger. Visit our dealership to take one for a test drive today!